This Cage Is Ideal For: Small to Large Birds
Not sure what size of cage you need for your bird? Click Here
Note: The image shown on this product page is not a stainless steel cage. The cage you'll receive will be beautifully polished 100% stainless steel as shown in the color chart below. We just do not have a picture of this cage in stainless steel as of now.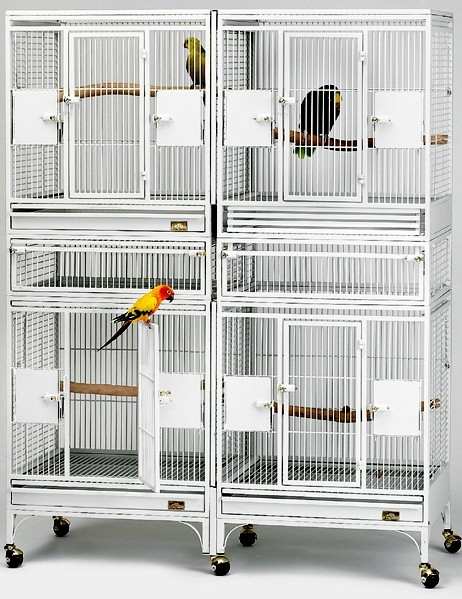 Stainless Steel Multi Vista Breeder Bird Cages On Matching Stands With Wheels:
Do not accept an imitation! Avian Adventures is one of the few companies out there that's selling 100% solid stainless steel cages. Most are selling stainless steel-plated cages that will rust and deteriorate after the plating wears off.
The perfect breeder bird cage or the perfect bird cage for people with more than one bird. The Multi Vista Breeder Bird Cage is exceptionally versatile. The base unit (two cages stacked vertically on base with wheels) can be purchased alone, allowing the flexibility of one large vertical cage, or divide it to create two smaller cages.
Additional expansion units can be purchased to add even greater flexibility of having one, two, three, four, or more individual cages. The secret to this innovative cage is the panels that separate the cages can be removed. If that's not enough innovation for you; the Multi Vista comes with space for a full spectrum light for the lower cage, nest box doors, and front-mounted food doors.
Bar Spacing: 1/2" (1.27 CM)
Bar Wire Gauge: 1/8" (.32 CM)
Dimensions: 24"x24"x63" (Internal)
Total Height Including Stand: 71"
3 Year Warranty Against Manufacturer's Defects

See More Details On This Cage Below

This cage includes the following items and features:
Internal stainless steel bowls are accessible through solid swing-out doors.

Includes internal toy hooks to keep your bird entertained for hours.

Grates - Optional use, bird can't escape when they're out.

Natural hardwood perches, no boring dowels! Perches are made of Bakau Wood, lighter (yet harder) than Manzanita.

Features the famous "no tools" set-up & knock-down system (see video clip below).

Improved knockdown design, still without nuts or bolts. Easily breaks down into a box for easy transportation or storage.

Matching base with wheels to easily move the cages around.

New locking system has been added to the front doors and food doors. Easy for humans, virtually impossible for birds!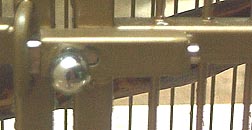 A Message From Avian Adventures:
"Studies have shown that the WIDER the cage, the better it is for your bird's health. Because of our commitment to providing the very best avian habitats, we've redesigned our cages to provide additional width and added optional slide out grates to accommodate varying bird behaviors."

Avian Adventures Bird Cages
When you buy an Avian Adventures bird cage, you're buying a bird cage for life! Avian Adventures Bird Cages are built to last and their cages are so gorgeous they instantly become the focal point of any room they're in. Avian Adventures is known for having the most finely crafted bird cages in the world, and they are true innovators in the exotic bird industry. Their cages are easy to install and easy to maintain. *View the video below for details on assembly and the unique features of the Avian Adventures Cages*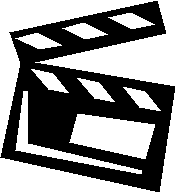 WATCH ASSEMBLY & PRODUCT HIGHLIGHT VIDEO
This cage comes in the following colors:
| | |
| --- | --- |
| Stainless Steel | |
Base Cage Availability Chart
| | |
| --- | --- |
| Stainless Steel | In Stock - You'll receive it within 3-7 business days |
Expansion Cage Availability Chart
| | |
| --- | --- |
| Stainless Steel | In Stock - You'll receive it within 3-7 business days |
ALL OUR PRODUCTS SHIP FREE TO THE LOWER 48 STATES!
Featured Customer Testimonial
"All I can say is WOW!!! I looked around a lot, and you guys were the cheapest on every cage I considered. You also gave me excellent advice every time I called. On top of all that, I received my cage in less than a week & it's even nicer than I was expecting!"

Mary W.
Knoxville, TN
Questions? Call Us Now! 1-800-506-7066